Assessing viability of the Haleakalā silversword to uncover the effects of climate change on Hawaiʻi's high-elevation ecosystems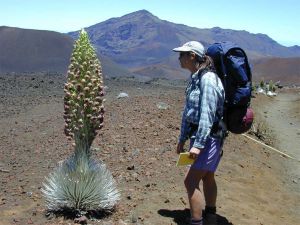 Maui's threatened Haleakalā silversword forms the foundation of a diverse high-elevation community on Haleakalā, and is an ideal species for assessing how this ecosystem is responding to climate change. The silversword's striking appearance makes it one of Hawaiʻi's most recognizable species, and it is one of the main attractions drawing 1-2 million tourists to Haleakalā National Park each year. The plant was once considered a conservation success, when active management led to a population recovery in the early 20th century. Unfortunately, silversword populations are now declining, and climate change – namely decreasing precipitation and increasing temperatures – is thought to be responsible.
The goal of this project was to collect data on both silverswords and climate conditions to pinpoint the exact cause of silversword declines and to predict how the species will fare under potential future climate scenarios. Researchers aimed to identify management strategies that might help restore silversword populations. So far, results have shown that silversword populations have declined by about 60% since 1990, and that this decline coincides with lower rainfall.
The prominence of the silversword within the Hawaiian alpine ecosystem renders it one of the more visible examples of climate change-induced biodiversity loss. Identifying the specific climatic variables that are contributing to the silversword population decline will help Park managers determine which management actions will be necessary to protect this iconic species into the future.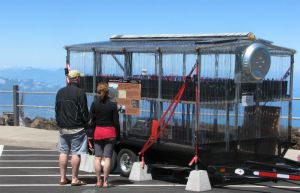 Paul Krushelnycky 
Asst. Researcher, UH Mānoa
Lloyd Loope
Botanist, USGS Pacific Island Ecosystems Research Center