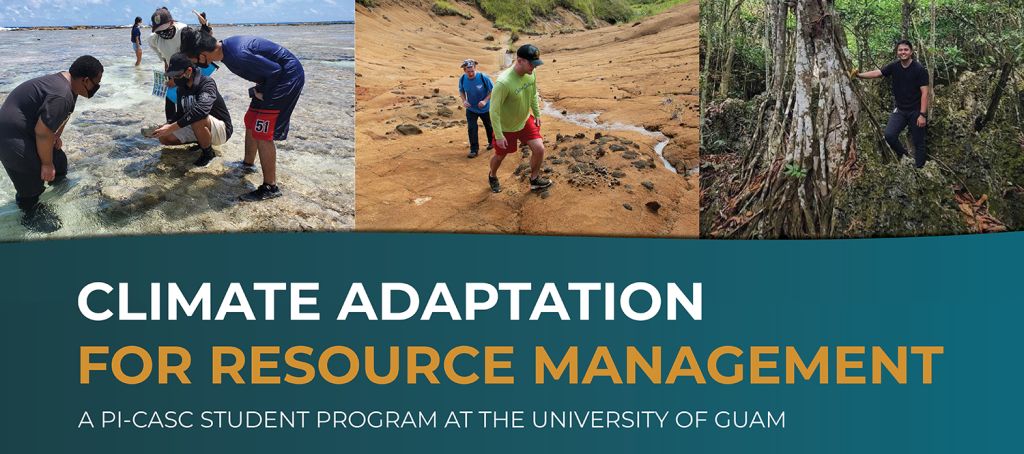 PI-CASC's Climate Adaptation for Resource Management (CARM) program is a fellowship and continuing education opportunity for natural resource managers and professionals in Guam to bolster their professional capacity through higher learning in academia.
Background
While a traditional graduate fellowship bridges a student's education from the undergraduate level to the graduate level, or graduate level to doctoral level, the CARM program works with natural resource agencies to seek out individuals with substantial field experience who can benefit from receiving advanced education and further build technical capacity of the agency they serve. Selected participants translate their priority management projects into research questions, which then becomes the focus of their required graduate research project. This co-production effort allows participants to develop and hone effective communication techniques in collaborations among scientists, natural resource management, and academia.
The CARM program aligns with PI-CASC's vision to develop applied science, knowledge products, and other services to support policy and management "directed toward the sustainability of interconnected human and ecological communities and the conservation of species of concern" in Guam.
Eligibility
Individuals who are eligible for the CARM program must:
be legally allowed to study and/or work in Guam;
hold a bachelor's degree in a U.S. accredited four-year institution;
be employed as a part- or full-time natural resource manager or manager-adjacent role in a Guam-based agency or organization; and
be admitted to or intend to enroll in a master's program at the University of Guam.
Expectations
Tuition and fees will be covered by PI-CASC. Selected individuals may also be eligible to receive an additional educational stipend based on their needs per academic year, to be determined on a case-by-case basis.
Students must continue to be employed while taking graduate courses. They are expected to communicate regularly with their academic advisor and work supervisor to develop an efficient work and school schedule that will keep them on track with studies and responsibilities. Throughout their time in the program, students will be asked to give presentations for PI-CASC or UOG activities.
Application
To apply, please email John I. Borja at borjaj4619@triton.uog.edu to request an application form. You will then be required to submit the following:
Filled out application form
Current resume
Unofficial transcript
Cover letter briefly describing your general work responsibilities and a related research project you are interested in pursuing for your master's program
Letter of consent from your employer