Understanding the response of native and non‐native forests to climate variability and change to support resource management in Hawaiʻi
Hawaiʻi's native forests supply the state with freshwater, support cultural practices, and are home to more than 10,000 plants and animals found nowhere else in the world. However, they are also threatened by the spread of invasive species and may be vulnerable to shifting temperature and rainfall patterns brought about by climate change. Through this project, scientists sought to better understand how native and non-native forests in Hawaiʻi will respond to climate change. Researchers used field data from two long-term monitoring sites in Hawaiʻi Volcanoes National Park to model the effects of projected climate change on two forest ecosystems, one dominated by the native ʻōhiʻa tree and the other by the invasive strawberry guava tree.
Results indicate that both forest types will need more water in the future and may experience decreased growth. Although slower growth of invasive species could be considered a benefit, the predicted decrease in ʻōhiʻa growth might signal a reduction in overall health and stability that could be disastrous to native forests and the services they provide. These findings can aid landowners as they anticipate and manage changes to forest communities. In addition, water resource managers may wish to consider the predicted increase in forest water use when developing future plans, as this may result in changes to groundwater recharge rates and stream flows.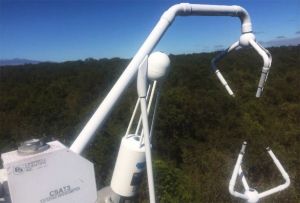 Thomas Giambelluca
Professor of Geography, UH Mānoa