Understanding the effect of climate change on the migration of Marshallese Islanders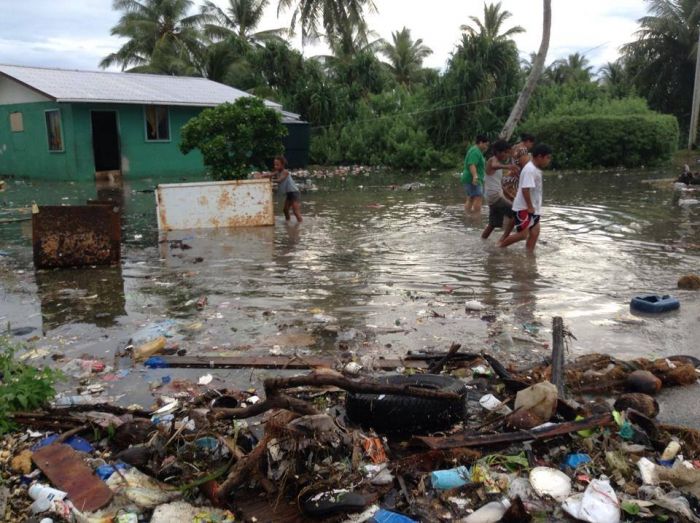 As one of the lowest-lying island nation-states in the world, the Republic of the Marshall Islands (RMI) is acutely vulnerable to sea-level rise, flooding, and the associated intrusion of saltwater into crucial freshwater supplies. Persistent drought is further affecting agricultural production in the RMI. Many Marshallese communities are already experiencing these changes and are migrating to larger islands within the RMI and to other countries like the U.S. to, among other things, seek alternative means of making a living and access healthcare.
The number of Marshallese residing in the U.S. has rapidly risen over the past two decades, from 7,000 in 2000 to 22,000 in 2010. There is also substantial internal migration, mainly from outer islands to the main atoll of Majuro. However, we do not know to what extent Marshallese people are already migrating because of climate change and its impact on ecosystem services—nor do we know whether this migration can be regarded as a successful adaptation strategy. The factors triggering human migration are complex and often intertwined, making it difficult to pinpoint and address specific causes from a public policy perspective. For example, changes in ecosystems due to climate change can cause health problems or food insecurity, which may have greater consequences in communities with political, social, or economic tension.
Decision makers at local and state levels in both the RMI and U.S.—for example those who design policy related to immigrant access to services—need information to better understand the factors contributing to current migration and to anticipate possible future impacts of climate on human migration. Also, a better understanding is needed of how migration impacts livelihoods and well being in the island to which migrants arrive and in the areas in which they settle.
This research project will study the nature of Marshallese migration and its effects on migrants, themselves, and communities in source and destination areas. There are three central research questions:
• To what extent are climatic stressors, and their impacts on ecosystems, livelihoods and habitability, already driving migration in RMI?
• What are the impacts of migration in source and destinations areas?
• How do migration reasons and consequences vary among different types of respondents?
This project will examine the extent to which we can identify direct and indirect links between patterns of human migration and climate events. As a next step, the projects' research findings on migration decision-making could be integrated into agent-based models that use projections of climate change and its impact on ecosystem services to understand which islands and communities are at highest risk and from where we can expect most migration to take place in the future.
Maxine Burkett
Professor of Law, UH Mānoa