Brad Romine appointed to Honolulu Climate Change Commission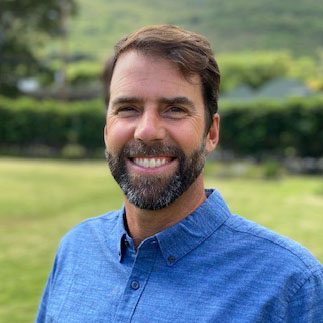 In September, PI-CASC's University Consortium Deputy Director Brad Romine was appointed by Honolulu Mayor Rick Blangiardi to be one of five members on the Honolulu Climate Change Commission, and on October 5th, his position was officially confirmed by the Honolulu City Council. In their resolution, the Council "expressed its gratitude and appreciation for [Romine's] commitment and willingness to actively participate in city government."
Created in January 2018, the City and County of Honolulu Climate Change Commission is charged with "gathering the latest science and information on climate change impacts to Hawai'i," with a focus on O'ahu. The members also "provide advice and recommendations to the mayor, City Council, and executive departments" as they draft policy, plan for future climate change possibilities, and work to reduce the city's greenhouse gas emissions.
Romine steps in as his old mentor, Dr. Chip Fletcher, rotates off the Commission. Brad joins other Commission members Dr. Rosie Alegado, Dr. Victoria Keener, Kiana Otsuka, and Melanie Islam, and will serve until June 2025, filling the role of expert on coastal hazards and impacts of sea-level rise.
"I'm honored and humbled by the appointment," said Romine. "I look forward to working with our elected officials, staff, and university partners in bringing the latest climate change and sea-level rise science to decision-making policy through the City Climate Commission."
He also expressed great interest in the Commission's work on other aspects of coping with climate change, including greenhouse gas mitigation and considerations of justice, equity, and inclusion. The Commission is an advisory body, working closely with the Honolulu City and County Office of Climate Change, Sustainability, and Resiliency, and the Department of Planning and Permitting.
Romine's particular expertise in the coastal arena may come into play on several important legislative actions coming up, including updating the shoreline setback ordinance and zoning laws in special management areas.
"Like a lot of my PI-CASC role, I really bring in the science to planning and decision-making," said Romine. "We are there to be a resource to the City, its staff, and elected officials as needed, to answer their questions around climate change."
We congratulate Brad on his appointment and confirmation, and hope that PI-CASC can support this important role in supplying actionable science to those in need of the information in planning our islands' future.