PI-CASC student Farron Taijeron earns legislative recognition for environmental work
PI-CASC Climate Adaptation for Resource Management Fellow Farron "theguamguy" Taijeron on April 28 was presented a resolution by the 37th Guam Legislature commemorating his advocacy and stewardship for Guam's environment and natural resources.
Senators thanked Taijeron for raising awareness through digital content and social media on an array of environmental challenges Guam faces, including pollution, illegal dumping, and human-caused wildfires. Sen. Chris Barnett, the primary sponsor of Resolution No. 94-37, praised Taijeron for his determination in finding those important stories to tell — often putting himself in the center of those scenarios to show impactful visuals.
"You really put your neck on the line to promote stewardship and environmentalism, and it's to be commended," Barnett said.
Committed to learning, volunteering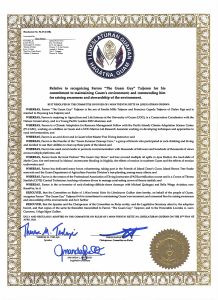 Taijeron is an undergraduate student in the agriculture and life sciences program at the University of Guam, a research associate at the UOG Marine Laboratory, and a conservation coordinator with The Nature Conservancy. He is the island's first master free diving instructor and has created a Professional Association of Diving Instructors certification course on managing coral-eating crown-of-thorns starfish.
Personally, Taijeron has dedicated many hours to volunteering and creating content to raise awareness of some of Guam's environmental challenges. Some of his in-depth coverage include an oil spill in Apra Harbor, soil runoff into Marbo Cave (Sasayan), and illegal dumping on cliffsides in Tamuning, which he worked with a drone company to clean up.
"All this incremental progress is possible if people just try. I'm grateful to the work of all our elected leaders, but we don't have to put it all on them. We can do whatever we can ourselves because it is our island," Taijeron said.
As a PI-CASC CARM fellow, Taijeron is observing local perceptions of wildfire and wildfire management on Guam, with assistance from the Guam Department of Agriculture Forestry and Soil Resources Division. The results of his project are intended to inform forestry managers with data that can bolster effective communication with the island community to prevent wildfires.
"Farron has always taken initiative to be a responsible steward of Guam, and he puts in additional effort to keep the community informed about environmental harms that threaten our precious resources. His strong communication skills in the digital realm have surely impacted the way people respond to such issues in a positive way. I'm so very proud to see him progressing through these passion projects that have been a benefit to the community," said Dr. Romina King, associate professor of geography at the Western Pacific Tropical Research Center and UOG lead of PI-CASC.
Taijeron's work can be viewed on his social media, under the name "The Guam Guy" or heard in his podcast of the same name, through the KUAM Podcast Network on Spotify, Apple Podcasts, or on the KUAM News YouTube channel.