MCC Panel at the 2018 Pacific Youth Empowerment for Success Conference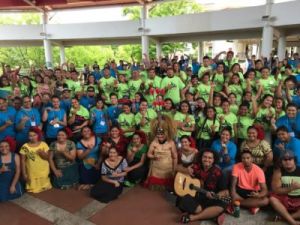 The Manager Climate Corps (MCC) recently participated in the 2018 Pacific Youth Empowerment for Success (PacYES!) Conference on the University of Hawaiʻi at Hilo campus. PacYES! aims to motivate, inspire, and inform high school students of Pacific Island ethnicities (Samoan, Tongan, Fijian, Marshallese, Palauan, Pohnepein, Chuukese, Kosrean, Yapese, and others) about career opportunities, college readiness, and community readiness. The event is co-sponsored by Micronesians United – Big Island (MU-BI) , DOE – Hilo Waiākea Area Complex, County of Hawaiʻi, UH Hilo Ka Lama Ku Student Leadership Program, Hawaiʻi Community College, UH Hilo, and other partners. For more on this conference, visit their website here.
MCC manager and student collaborators engaged students in the conference's career and community readiness workshops. MCC hosted one of the workshops and held an early career professional panel discussing practical, place-based context for careers involved in climate change adaptation along with the necessary tools and skills developed through research experiences. Panelists included Kamala Anthony, Cherie Kauahi, and Charlie Tommy. The session was facilitated by Cheyenne Perry and Jermy Uowolo. You can check out the rest of the conference schedule here.