When Climate Change and Invasive Species Intersect:
The Pacific Drought Knowledge Exchange:

What co-production can look like
Thursday, May 6, 2021 from 2:00 – 3:30 PM HST
Virtually on Zoom
Webinar overview: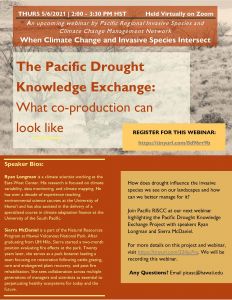 How does drought influence the invasive species we see on our landscapes and how can we better manage for it?
Check out Pacific RISCC webinar below highlighting the Pacific Drought Knowledge Exchange Project (PDKE) with speakers Ryan Longman (East-West Center) and Sierra McDaniel (Hawaiʻi Volcanoes National Park).
Drought on our landscapes can influence future vegetation cover, non-native species invasions, watershed function, and fire behavior. Therefore, the PDKE project seeks to address the critical need for scientists to produce locally relevant, timely, accessible, and actionable science products that managers can use to adapt to potentially drier and hotter climates. So, the PDKE was formed with PI-CASC funding to co-produce drought data and products with project partners, like the Hawaiʻi Volcanoes National Park. 
Project Objectives:
Construct detailed site-specific syntheses of historic climate variability, drought, and long term drying using all available data
Synthesize future climate projections for each land management area
Assess manager responses to recent severe drought and wildfire events
Develop geospatial data products, including maps of risk and potential responses that best achieve multiple management objectives
Speaker Bios:
Ryan Longman is a climate scientist working at the East-West Center. His research is focused on climate variability, data monitoring, and climate mapping. He has over a decade of experience teaching environmental science courses at the University of Hawai'i and has also assisted in the delivery of a specialized course in climate adaptation finance at University of the South Pacific.
Sierra McDaniel is a part of the Natural Resources Program at Hawaiʻi Volcanoes National Park. After graduating from UH Hilo, Sierra started a two-month position evaluating fire effects at the park. Twenty years later, she serves as a park botanist leading a team focusing on restoration following cattle grazing, rare and endangered plant recovery, and post fire rehabilitation. She sees collaboration across multiple generations of managers and scientists as essential to perpetuating healthy ecosystems for today and the future.
Webinar recording:
The webinar recording below features a co-presented talk with an introduction to the Hawaiʻi Volcanoes National Park, a dive into the co-production process of the Pacific Drought Knowledge Exchange climate products, a discussion of management applications of tailored products, and insights on the scaling up of this project and the drought learning network across the Pacific Islands region.