NCA 5

public

workshop draws insight

on climate change concerns from

Pacific Island

communities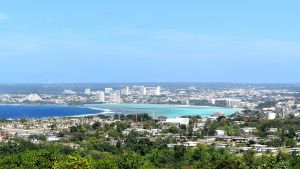 Nearly 100 participants from Hawaiʻi and the U.S.-Affiliated Pacific Islands (USAPI) helped authors of the Fifth National Climate Assessment (NCA5) hone in on the impacts, challenges, and potential solutions for climate change observed and experienced by island communities.
The NCA5, a congressionally mandated report led by the U.S. Global Change Research Program, is a nationwide assessment that evaluates existing data and case studies across various regions and sectors, and reports on climate change trends within the next century. This assessment is intended to aid in policymaking and natural resource management, with themes covering vulnerabilities, risks, and adaptation of climate change impacts across the United States that have emerged since the previous National Climate Assessment in 2014 (NCA4). 
A virtual public engagement workshop for the Hawaiʻi and USAPI chapter was held on January 24, 2022 (HST) to gather input from Pacific Islanders that will help determine what themes should be included in the NCA5. The Pacific Islands Climate Adaptation Science Center (PI-CASC) leadership is aiding in this effort. 
"Many Pacific islanders are experiencing climate change impacts in our everyday lives. The perspectives of the people who live in our island communities are important to highlight in this document, as they know first-hand the unique environmental, economic, and infrastructural challenges that islands are facing. Collecting inclusive input representative of our region's historical, cultural, and ecological contexts is critical to illustrate the outstanding trends and narratives related to climate change in the region," said PI-CASC Federal Director Mari-Vaughn Johnson, who is also the federal coordinating lead for the NCA5's Hawaiʻi and USAPI chapter. 
Participants of the workshop shared resources and experiences across five draft themes that will define the chapter: Water and Food; Health; Ecosystems; Cultural and Historical Resources; and Built Environment, Livelihoods, and Economies. The workshop also split participants by island geographies to gather different perspectives from Hawaiʻi, Guam, the Northern Mariana Islands, Palau, the Federated States of Micronesia, the Marshall Islands, and American Samoa. 
Sea-level rise, cost of living, natural resource conservation and mitigation, and cultural preservation were among the multitude of topics raised by participants. One concern was ensuring the regional chapter was diligent in recording Indigenous perspectives across all themes. Another drew attention to the different barriers of reaching out to island communities, down to the grassroots level. 
"Participants provided helpful, island-specific feedback to refine our chapter. This included suggestions for topics, key messages, case studies, figures, and other references. As authors, we value these contributions to help guide us in the development of an accurate, inclusive, and geographically representative assessment. We look forward to continuing these dialogues, as we further research and write the chapter for Hawaiʻi and the USAPI," said PI-CASC UOG Lead Romina King. 
King is one of the lead authors for the "Built Environment, Livelihoods, and Economies" section of the regional chapter. A technical workshop for this section was held on February 1, 2022 (HST) to invite discussion and feedback from subject matter experts across the Pacific. 
Here are other opportunities of public engagement and input for the NCA5: