Guam coral reef mapping continues, testing MiDAR technology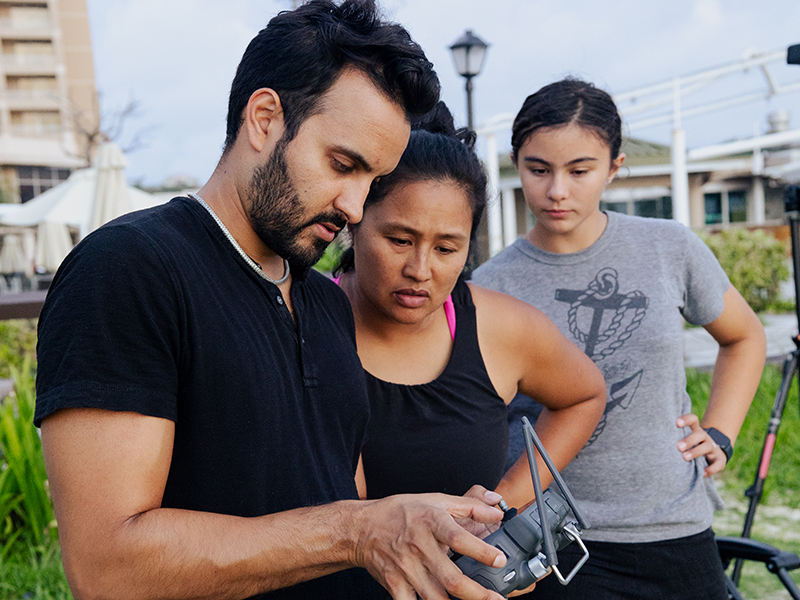 This summer, PI-CASC University of Guam lead Dr. Romina King co-led the third Guam Fluid Lensing Campaign mission that involves using cutting-edge remote sensing technology to produce high resolution maps of Guam's coral reefs.
King and co-lead Dr. Ved Chirayath, a former NASA scientist currently with the University of Miami, conducted drone flight and diving missions from June 18 to June 30 at six coral reef sites to plot out and collect aerial imagery of reefs that will later be processed with fluid lensing algorithms. This technology was developed by Chirayath to cut through wave distortions and produce clear visuals of what lies beneath the surface — down to approximately 65 feet.
The campaign is a multi-agency effort that encompasses various projects from local natural resource agencies with a unified goal to augment long-term monitoring of coral reefs and marine habitats. Among these, PI-CASC's role includes a project using an experimental multispectral sensor, known as Multispectral Imaging, Detection, and Active Reflectance (MiDAR), that can potentially conduct rapid assessments of coral bleaching over a wide geographic area.
MiDAR could address questions about post-bleaching recovery times and the ability to quickly measure the severity and extent of an event, potentially allowing coral reef managers to monitor bleaching events in real time. MiDAR was flown during the fluid lensing campaign this summer and demonstrated a high potential to detect marine debris, such as plastics. These efforts are intended to supplement the overall efforts of reef managers and provide tools to streamline monitoring efforts.